Safari Style Guided Hunts
EXPERIENCE THE NEW SAFARI-STYLE GUIDED HUNTS WITH FRIENDS AND FAMILY AT JOEBUCKS WHITETAILS.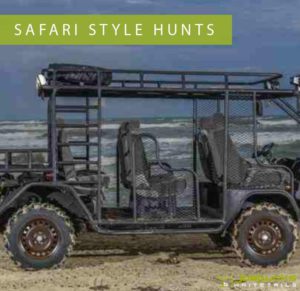 The new Safari-style guided hunt at JOEBUCKS Whitetails is reclaiming the fun and thrill of hunting whitetails and other exotic animals in the natural brush, in their natural habitat, with the aid of experienced guides.
Wake up from sleeping at the lodge. Let our staff load all of the necessary equipment, ice chests, binoculars, rifles, etc. on our specialized, customized Volkswagen or Safari Bronco.
At sunup we start driving around, looking at various types of animals in their natural habitat.
With our Safari-style guided hunts, you get to see more animals than you would in a deer blind.  Furthermore, you will have the opportunity to take the shot from the high rack, or get off the vehicle to spot and stalk, and make a better decision about the shot.
During rut season you get to see the bucks chasing the does and guides will use their rattling techniques and grunt calls to bring the dominant mature bucks.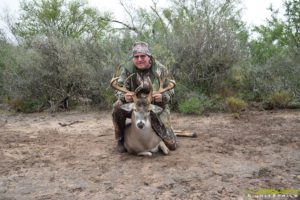 At lunch time we go back to the lodge where you can enjoy a first-class barbecue prepared by JOEBUCKS Whitetails staff.
Enjoy a full day of exploration. Your hunting success rate will improve because we're able to search miles of brush versus being in a deer blind.
Bring your friends and family along for the ride in our customized Volkswagen or Safari Bronco. Everyone can participate and take turns hunting. Make memories with our Safari-style guided hunts.
A professional photographer can be provided upon request to take photos of the entire experience.
Daily Guided Safari Hunt Fee: $1000 Per Day
Your booking reserves our Safari-Style vehicle with included driver and 1 experienced guide
All bookings include 2 hunters with up to 2 guests (4 total)
Price of kills are not included and are regulated by Trophy Buck Pricelist.
Corporate Groups are always welcome at JOEBUCKS Whitetails
Wounded animals charged same as killed
Whitetail Deer Bow hunters welcome
PRICES SUBJECT TO CHANGE WITHOUT NOTICE.
To Hunt Whitetail Deer at JOEBUCKS Whitetails, please call or text us at (956) 792-3829.
Book Your Whitetail Deer Hunting Adventure Today
Enjoy a unique hunting experience in a genuine South Texas Whitetail Deer hunting ranch.